About the book: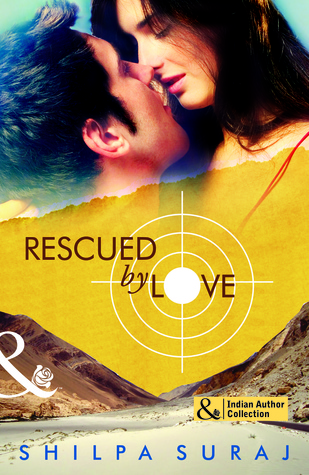 Paperback
180 pages
Harlequin India: Mills & Boon
MRP: Rs 150
When Naina Ahuja is kidnapped as hostage days before her father, a Supreme Court Chief Justice, must sentence a terrorist, the stakes are very high. Lt Col Arjun Rathore and his team are the only ones who can be trusted with the mission of saving her.
During their arduous trek back through the hostile terrain of Ladakh, Arjun and Naina spend days in danger of losing their lives - and their hearts. Back in safety, the real world and its very real problems threaten – as do their own perceptions of the differences between them.
They must separate – but will life rescue their love?
About the author:
Shilpa was a year and a half when she was first introduced to the world of books. Her mother would park her with a picture book on the floor of the kitchen while she finished her cooking for the day. While it's no longer the kitchen floor, you can still find her tucked away in a cosy nook somewhere with her nose buried in a book. While books in all genres interest her, it was romance that captured her heart. While racing through every romantic fiction book she could beg, borrow or buy, her over active imagination started to work overtime and weave its own stories. Years in the corporate world followed by a stint of entrepreneurship crystallised her belief that all she really wanted to do was give life to the stories bubbling inside of her. She briefly managed to tear herself away from the world of fiction to find her own personal happily ever after and now spends her time happily focusing on the two loves of her life – family and writing romances.
My Review:
The first thing that comes to mind in the aftermath of reading the book is that we just read a sweet feel-good story.
This is the story, a quintessential Mills and Boon, with a twist.
Naina, daughter of the Chief Justice of India and Col. Arjun fall in love with each ither during a rescue mission. The girl is betrothed to a Fatty politician who she obviously didn't want to marry even before this mission in the first place, the love gives her an added excuse. She says, "Marrying a man you didn't want was bad enough but marrying him when you wanted another would be torture"
But this is dear life, and nothing is less than twisted. There are other problems to look after: a servile mother, a domineering sonavabitch father, principles, the crooked, intricate concept of honour.
A leap of 6 months and fates will be decided. This is where you need to pick up the novel and see for yourselves what happens in the story next. Which means that I am asking you to read it. Which further means that this is a novel worth reading.
Character sketches are impeccable: the incorrigible father who would rather not go back on his words lest they backfire than break a marriage. Just like that. This character is crafted meticulously, because sad though it be, such people exist in flesh and bones and arrogance and much more. And such a character and its obstinacy makes the ending of the novel
believable, and satisfying.
M&B novels are supposed to entertain you with romantic descriptions and a surreal boy-meets-girl-falls-in-love plot. This book manages to honour this image so well.
That said, it comes with its set of flaws. For one, it is a quick, fast-paced read. I, who can savour books for hours at stretch finished this book in a couple of hours. Because reader can be kept longing for more. Not more plot, the plot has been done right. Great even. The timings. The setting. The characters. Everything flows seamlessly into the plot. What reader seeks more of, is the description. Maybe a third person narration can be cited as the culprit but then the reader certainly has a right to know in detail the feelings and emotions of a character s/he has associated himself with for more than a 100 pages. So, we know Naina is getting a roller coaster of emotions, but which ones? THAT is a big question.
I also adore the wordplay within the dialogues, which were, in addition, succinct too. A great effort has gone into them.
This is where the characters lack. This is where everything gets neutral. The characters' actions will have you nodding in appreciation and not knowing their emotions would have you creasing your lips and forehead, both the things cancelling out to make it a great read, if not a brilliant one.
My Judgement:
When all is said and done, such a novel's gotta be read.
Find the book here: