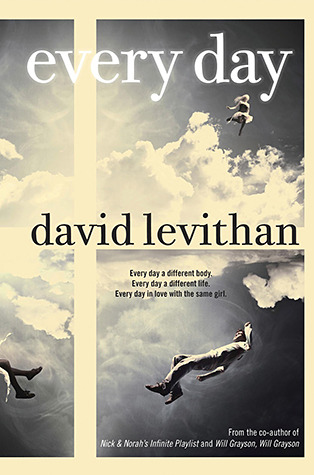 Title
: Every Day
Published by: Knopf Books for Young Readers
Published on: August 28th, 2012
Pages: 322 pages
Genre: YA
Rating: 4/5
Blurb:

Every day a different body. Every day a different life. Every day in love with the same girl.There's never any warning about where it will be or who it will be. A has made peace with that, even established guidelines by which to live: Never get too attached. Avoid being noticed. Do not interfere.

It's all fine until the morning that A wakes up in the body of Justin and meets Justin's girlfriend, Rhiannon. From that moment, the rules by which A has been living no longer apply. Because finally A has found someone he wants to be with—day in, day out, day after day.


David Levithan (born 1972) is an American children's book editor and award-winning author. He published his first YA book, Boy Meets Boy, in 2003. Levithan is also the founding editor of PUSH, a Young Adult imprint of Scholastic Press.
About Everyday, He writes on his website, "2012 brought the release of Every Day , the story of a teen named A, who since birth has woken up in the body and the life of a new person every morning. At the start of the story, A is sixteen, and wakes up in the body of Justin, who's never really treated his girlfriend, Rhiannon, that well. When A falls for Rhiannon, it suddenly changes the stakes of A's story – and A's life. When I started writing Every Day, there were two questions I wanted to answer – first, what would it be like to be a person who grew up without gender, race, sexual orientation, parents, friends, and all of the other things we usually classify ourselves by, and, second, what would it be like to be in love with someone who changed every day – would it be possible? I wrote the book to figure out what my answers were."
Find the author here:
David Levithan had been on my reading list for far too long. I don't like keeping books waiting but alas, So many books, so little time.
So, when Another Day, a companion was announced, it shot up my interest so much so that I ended up reading Every Day, abandoning all other current reads.
Was it worth it? You might ask. And my answer would be incontrovertibly, undeniably yes. It was so totally worth it.
The plot is as refreshing as it gets. It is the story that delves deep into our definitions of friendship, love, companionship and belonging. How far will we go to be with someone? How far are we ready to bend the rules? Is bending the rules worth the breach? Does the breach justify the end? Are we ready for the consequences?
It gets you thinking and keeps you so.
But here is a friendly warning: to fully understand the book, and to let it to what it intends to, you need to accept it as fiction, being a realist wouldn't help. The beauty of the book lies in how it ticks our thinking cells by bringing another dimension to our world.
This is the story of A. A wakes up each day in a new body- and that implies he misses out on so much. On having an address, on having a family, permanent fiends, and so on. Things we take for granted. Things we'd lose and not realize what hey're worth.
Apart from the lessons in living, the plot sure does hold a sense of mystery and intrigue. The author has done such a great job in weaving a plot out of nothing, and I am definitely going to read more from the author.
A beautifully written book, provokes you into thinking incessantly, and makes you question the right and wrong.
For more quotes, follow me here:
Source of the review copy: My own copy!
Follow for regular reviews, author interviews and bookish love: