Title: Jesse's Girl by Miranda Kenneally
Published by: Sourcebook Fire
Published on: July 7th, 2015
Pages: 304
Genre: Young-adult (YA)
Rating: 4.5/5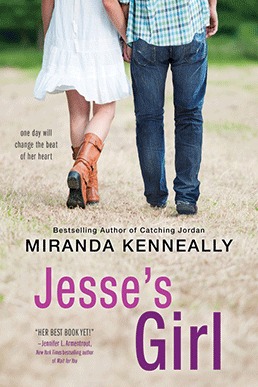 Book Blurb
:
Everyone at Hundred Oaks High knows that career mentoring day is a joke. So when Maya Henry said she wanted to be a rock star, she never imagined she'd get to shadow *the* Jesse Scott, Nashville's teen idol.
But spending the day with Jesse is far from a dream come true. He's as gorgeous as his music, but seeing all that he's accomplished is just a reminder of everything Maya's lost: her trust, her boyfriend, their band, and any chance to play the music she craves. Not to mention that Jesse's pushy and opinionated. He made it on his own, and he thinks Maya's playing back up to other people's dreams. Does she have what it takes to follow her heart—and go solo?
Growing up in Tennessee, Miranda Kenneally dreamed of becoming an Atlanta Brave, a country singer (cliché!), or a UN interpreter. Instead she writes, and works for the State Department in Washington, D.C., where George W. Bush once used her shoulder as an armrest. Miranda loves Twitter, Star Trek and her husband.
On her own website, she says, "My birthday is April 29, 1982. I grew up in Manchester, Tennessee, a quaint Christian town where nothing cool ever happened until after I left. (Now it's the home of Bonnaroo). My dream was to become an author, a Major League Baseball Player, a Cracker Barrel manager, a country music singer, or an interpreter for the United Nations.
When I was 18, I escaped to Washington, D.C. Talk about major culture shock: On my first day of college, I showed up at the dorms wearing *cringe* overalls and not knowing much about life or myself. I didn't really even have a plan – I just knew I wanted to learn more about the world, maybe major in print journalism, and maybe learn to speak Russian.
It was the year 2000, and Al Gore was going up against George W. Bush for the Presidency, and I didn't even know the difference between a Republican and a Democrat. My political science professor made us write a report on the various Presidential debates. Not knowing much about politics, instead I chose to describe the candidates as characters, e.g. "What the hell was up with the makeup caked on Al Gore's face? He should become the new model for CoverGirl." Anyway, the professor loved it, gave me an A, and told me to keep writing. Not bad for someone who didn't even know what a Libertarian was.
So instead of becoming a Cracker Barrel manager, I discovered a love of news (from politics to Hollywood trash) and international relations. While I'm not a good enough linguist to be an interpreter, I did get a job at the U.S. Department of State, dabbling in all sorts of stuff.
Also while in D.C., I've re-embraced writing, which I loved so much as a kid. The first thing I ever had published was a short story for a publication at a writing camp I attended when I was eleven. The name of the story was Patsy's Prancing Poodles, a comedy about a circus performer who decides to do a tightrope act with her poodles. Obviously, the story was absolute crap, but I loved seeing my work in print. And, of course, I was majorly jealous of my friend Rachel's story. She wrote an awesome mystery about some stolen shoes or something, and I remember thinking, "Damn, why didn't I write a mystery? This is suspenseful. This is cool. This is much better than some lame poodles doing flips on a high wire."
Now, I'm still thinking the same thing every time I go into a bookstore. Why didn't I think of Bel Canto? Or Feed? Where the Red Fern Grows? Ender's Game? (Well, besides the fact those last two books were written before I was born)
So many wonderful writers are out there, and I love reading their books while trying my best to become as good as them."
Find the author here:
Social media:
How do you review a book which has been nothing but a pure light hearted joyride for a stretch of 6 hours to you?
Well, one can always try. So here we are. Although this is a book in the series by this amazing YA author, this is read just as cheerfully as a standalone. The story of Jesse Scott and Maya Henry is endearing, quirky and romantic interspersed with hilarity in just the right amount. When I read love stories, especially Young Adult stories that are not about star-crossed lovers, what I most look forward to the most are the conversations, repartee and friendly banter and wordplay. And this novel is brimming with such banter, much to my pleasure.
It begins in the cliched way & for a moment I think It will turn out to be just another hatred-turns-into-love story. But its not. Well, in a way it IS hate into love but it isn't cliched at all. There is a substance in the whole plot.
Both the protagonists are driven by passion. And there are some explicit and implicit lessons in living. Consistent effort. Never giving up. Undying yearning to learn. And I live that in a novel- when it has something to offer in soul besides the plot in mind.
One thing about the novel that deserves a special mention is the fact that everything seemed pretty balanced and thought out. Nothing seemed forced or out of the place or extraneous. All characters fit the plot just fine.
To top it all, I was smiling continuously while reading the novel. I like that about a book. That is able to give me reason to smile through words.
I could totally relate to Maya Henry, not in the factual sense but in what we feel. She asks at a point "What am I doing wrong? Why don't I belong anywhere?". And all I manage is a sigh, thinking to myself: I feel you Maya. I really do. And that is when I am completely, like entirely engrossed in the novel. There is a gripping urge to see it through the end.
And the best part is that there is a reality to it all: no one sacrifices anything and reason and practicality always remain dominant. What more could have one asked of a novel?
Maya's family and especially her brother and his girlfriend are all adorable characters, for lack of a better adjective. They are the most endearing supporting characters I have ever seen.
The journey: defeat, betrayal, a pestering family, love, agony, despair, longing: all the emotions are worth living in this book, with this book.
I am already in love with this author. On to reading more.
oh, and a friendly advice:Never waste time pining for a boy, because the boy you're meant to be with will want you so bad, you won't have to pine at all.
This book gives just too much to fangirl for.
Source of the review copy: NetGalley ARC (Advanced reader Copy)
Follow for regular reviews, author interviews and bookish love: