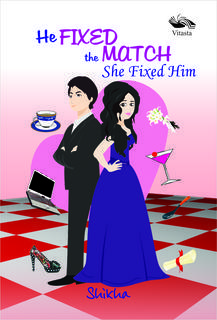 Shreya – I'm a highly qualified Delhi girl earning an enviable salary. My parents are having a tough time finding a suitable groom for me. However, recently they have a proposal from this very interesting guy from Mumbai. I almost get mesmerized when he starts talking to me. I think I like him very much. Kunal – I'm owner of a textile company in Mumbai. My Mom wants me to get married. Again. She has recently suggested a suitable girl from Delhi. What my Mom doesn't know is that I've met Shreya before once in my life and I've been looking for her ever since. I have a vendetta to settle. The author takes you along on a journey via roads of revenge, agony, remorse, attraction, titillation, tantalization and romance. Do Shreya and Kunal make it, or do they fall prey to their past?
Paperback: 292 pages
Publisher: Vitasta Publishing Pvt.Ltd; 1St Edition edition (1 November 2014)
Language: English
About the author:
Shikha Kumar has a B-Tech degree in Computer Science from Bharati Vidyapeeth, Delhi. Professionally she's as a Manager with Tata Consultancy Services. She has travelled to, and worked in different countries. She enjoys travelling, reading, writing and watching movies. This is her first attempt to present her writing abilities to the world.
I will begin with the best thing about this book: despite being a complete love story, this is a fresh plot, unlike the stale, overused plots of hatred-turns-into-love sequence of events. While this may come as a surprise considering the plot lays down this story only, the difference lies in the fact that here both the protagonists had a legitimate reason for hating each other to death. The author uses the element of surprise very well. Until the plot twisted into the love-hate story that it is, I couldn't even imagine that the simple plot will metamorphose into something so wicked, crooked and full of revenge. I liked the characters too! They were throughout just as they had been described initially.

I had feared that the vendetta settlement might get ugly, thankfully it didn't. The author has kept it a light-read, and Here i would mention how the Indian scene would benefit from such god quality chic-lit.
Having read the whole boo, I now find humour in the opening line: It's advisable to be careful about what you wish for; a cold breeze could be tornado approaching.
The cover and the title are so full of flavor and mischief, I adore these.
More on the characters: etched very carefully, they are diverse personalities with a past. the story proceeds over how their pasts intersected and landed them to the present. Both of them are broken, possessed by revenge in varying degrees, and professionally sound. Marriage seems to be the only thing offering them some solace, to mend their broken souls. Real life, as it turns out is different. the marriage that was supposed to be a panacea becomes the latest challenge in their lives. I especially loved those scenes and sequences where the families and parents were involved. For a refreshing change, the parents were not intrusive in a way that hampers or negates the love, rather propelled it.
Obviously, it had a cliched ending, but then, don't all love stories do?

Only one thing I found awkward was the forceful mention of one of the brands, time and again. While I am all for sponsorship and marketing, I am still to rethink on my idea of promoting brands for the sake of promoting them in a book! While this was done seamlessly in two cases, one of them was very misplaced.
My Judgement:
A fun, light-read, with all the idiosyncrasies of the Indian society, and love at its best, this is worth a read.
Author website:
Book links:
All images and information sourced from goodreads and/or author website