So, El James, the author of the novel Fifty Shades of Grey (no shit, it is actually a series) and its counterpart Grey which was recently released did a Q&A on twitter.
Maybe, she didn't know or remember what happened when she had announced the release of Grey, which was essentially the same sadistic story from Christian Grey's point of view. Twitter was literally overflowing with sarcastic-at-another-level comments and derogatory, scornful comments had inundated all social media.
This was a repeat of the deluge of tweets, but this one was an epic fail. Scratch that, epic doesn;t even begin to describe it.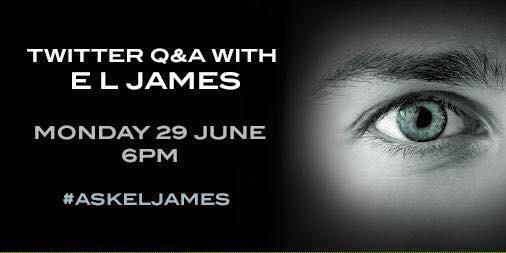 That damned moment:
— Penguin Books India (@PenguinIndia) June 29, 2015
This is how it ended:
Thank you twitter for allowing us the ability to burn famous people.

#askELJames

— Farida Hatem (@FaridaHatem13) June 30, 2015
Will any tag ever be as fun as

#AskELJames

was ? My stomach still hurts. Comedy hangover .

— Hiddlepox (@Hiddlepox) June 30, 2015
If you're having a bad day, go read the

#AskELJames

tweets. You won't be disappointed. I promise.

— Ellen Fike (@EllenFikeTCJ) June 29, 2015
You owe it to yourself to scroll through the

#AskELJames

hashtag. Some absolute gold in there.

— Rob Slater (@RobSlater10) June 30, 2015
It seemed trolls had taken over the internet, ot at least twitter.
So, we bring you the best tweets that BASICALLY sum up the disaster!
#AskELJames

do you realise that if christian grey was ugly and poor fifty shades of grey would essentially be an episode of criminal minds

— emma (@PRESERUMPINING) June 29, 2015
#AskELJames

what do you hate more? a) good literature b) consent c) women d) healthy relationships e) all of the above

— emma (@PRESERUMPINING) June 29, 2015
But the hashtag did give us something out of it.
Sure, 50 Shades of Gray was a crappy novel, but if she didn't write it, we wouldn't have had

#AskELJames

— stevemur (@stevemur) June 30, 2015
It as bitter, and hit where it hurts...
#AskELJames

Do you like writing in general? If so, why don't you learn it?

— M N (@CardijnWout) June 30, 2015
Too much sarcastic bitterness
#AskELJames

do you know 15 year olds can write fanfics with healthier relationships than your book ?

— betty (@ohhey_itsbetty) June 29, 2015
This guy seemed real pissed. But with valid points
What do you dislike more, Independent strong woman or the English language?

#AskELJames

— Trevor Donovan (@TrevDon) June 29, 2015
If I stalk a girl and GPS her car, does that mean it's true love?

#AskELJames

— Trevor Donovan (@TrevDon) June 29, 2015
People were creative in how they attacked, fifty shades style
#AskELJames

Is there a safe word we can use to get you to stop writing such drivel?

— Amanda (@Pandamoanimum) June 29, 2015
The guys are thoroughly confused.
#AskELJames

I need advice on making a BIG romantic gesture. Should I put a GPS tracker in her phone and make threats if she tries to leave?

— Liam Dryden (@LiamDrydenEtc) June 29, 2015
She did respond to some of these:
— E L James (@E_L_James) June 29, 2015
And then some actual humor, no sarcasm
I'd rather

#AskELJames

's publicist why they thought this was going to be a good idea.

— Jenny Trout (@Jenny_Trout) June 29, 2015
Lets just enjoy
— @SpazP (@SpazP) June 29, 2015
Follow for regular reviews, author interviews and bookish love: