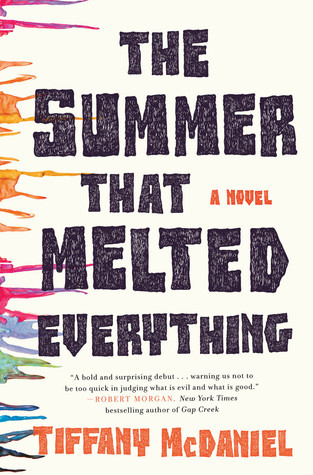 Title: The Summer That Melted Everything
Hardcover, 320 pages

Expected publication: July 26th 2016 by St. Martin's Press
Genre: Literary Fiction, tinge of Magic Realism
Rating: 4.5/5
Blurb
: Fielding Bliss has never forgotten the summer of 1984: the year a heat wave scorched Breathed, Ohio. The year he became friends with the devil.
Sal seems to appear out of nowhere - a bruised and tattered thirteen-year-old boy claiming to be the devil himself answering an invitation. Fielding Bliss, the son of a local prosecutor, brings him home where he's welcomed into the Bliss family, assuming he's a runaway from a nearby farm town.
When word spreads that the devil has come to Breathed, not everyone is happy to welcome this self-proclaimed fallen angel. Murmurs follow him and tensions rise, along with the temperatures as an unbearable heat wave rolls into town right along with him. As strange accidents start to occur, riled by the feverish heat, some in the town start to believe that Sal is exactly who he claims to be. While the Bliss family wrestles with their own personal demons, a fanatic drives the town to the brink of a catastrophe that will change this sleepy Ohio backwater forever.
Find the author here:

Rarely do you come across a book that makes you excited about it, right from the title. The title reeked of a metaphoric significance which is when I took an uncanny yet immediate liking to it.
So the story is unlike anything I've read before.

I was obviously searching for metaphors throughout, and wasn't disappointed. The metaphors existed in the very structure of the characters, places, setting, and elements. The town, for instance is called Breathed (pronounced Breath from "He breathed" plus +ed)
The novel says about the place, "I once heard someone refer to Breathed as the scar of the paradise we lost. So it was in many ways, a place with a perfect wound just below the surface"
And the metaphoric characteristics do not just end there, the entire narration is replete with metaphors much to my sheer delight.

The story, I have to admit is quite different from what one might expect in the first, innocent instance. Different, as in, not a slight difference in tone, or language, but a major departure from the expected cliched plots. It is refreshing and new, and the new-ness takes one with surprise, because the imagination applied by McDaniel is active, pleasing and engaging.
Since the language is full of metaphors and words and phrases which aren't slang, it becomes difficult at first to draw a hold on the book. But once you're 30 pages into it, it becomes a test of patience not knowing what happens next.
And to an avid reader, nothing sounds better than quotable quotes, and this one is flooded with those.
Before picking it up, you may evaluate it, but it is worth a read!


Book Trailer:


"It's a waste of time to live better when you have got no one to care for and no one to care for you"
"It's a miraculous thing, how a ship floats. Always a tragedy when it sinks"
"He knew the resilience of a seed, and the vulnerabilities of it also"
"The heat came with the devil. It was the summer of 1984, and while the devil had been invited, the heat had not. It should've been expected, though. Heat is, after all, the devil's name, and when's the last time you left home without yours?"
"A foolish mistake, it is, to expect the beast, because sometimes, sometimes, it is the flower's turn to own the name."
To track my reading journey as I fangirl about books, among other things, follow me here:
Source of the review copy: NetGalley